IN THIS POST: Mrs. Ellen's Birthday!, Reading Program Begins, Conferences, Chess Club, Great Shake Out, Fine Artists, Fall Festival @ EBS, Color of Next Week, Letter of Next Week, Upcoming Events, The Week Ahead
Mrs. Ellen's Birthday!
This past week was Mrs. Ellen's birthday! We had an all school assembly to honor and remember her. The choir sang some fun birthday songs, we heard a speech about Ms. Ellen and we got to do an all school dance called the "Cha, Cha Slide."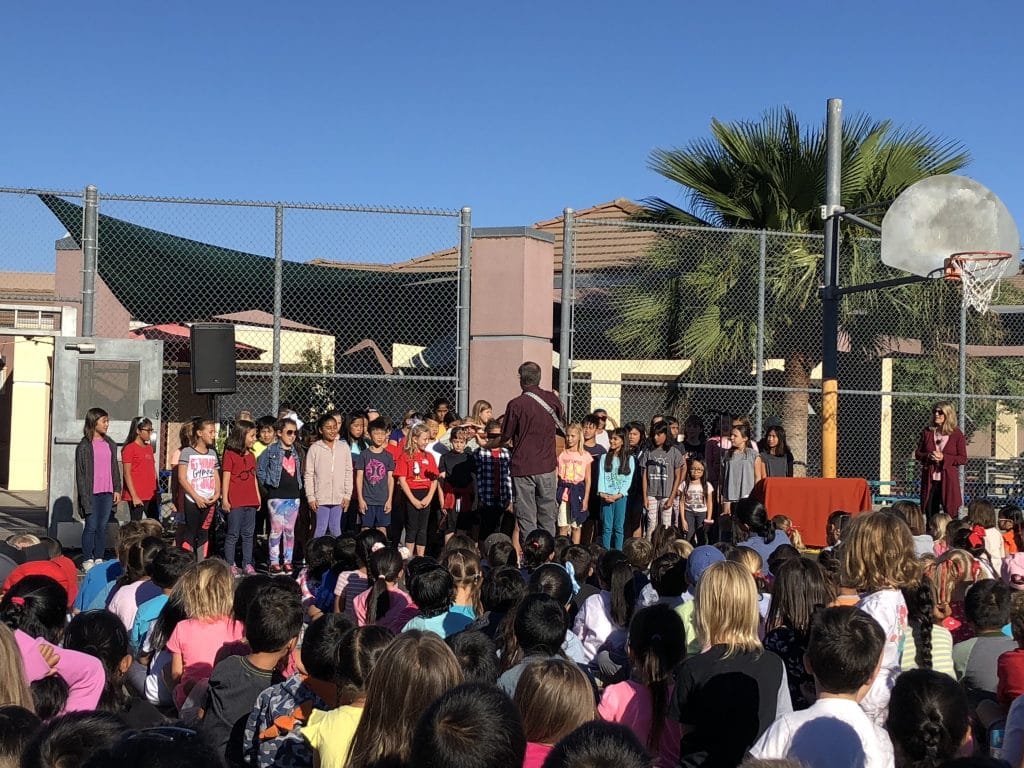 Reading Program Begins
This week we will begin a new reading reorganization that we started last year. We as K/TK teachers came together and mixed up our students all by reading level. Four day a week, for 20 minutes each of those days, we gave instruction at targeted at the level of students we were teaching. This means that each child would receive reading instruction at their level 4 times a week. We found it really helped the students and allowed them to meet other teachers in the grade, which was especially helpful to our TK's as they will move to Kindergarten next year.
In short, we all line up outside. Students will be told which teacher they will be going to as well as have a name tag with the other teacher's name/color. Teachers will hold up a sign in their color to help students know were to line up. Students will move to their new line and go inside for the 20 minute instruction time. At the end of the 20 minutes, students return to their normal class for the remainder of the day. The students do great and gain more confidence each day.
Conferences
An email will be sent soon to you with a link to sign up for conferences. There are a range of days and times especially since there is no school on Monday, November 12th to honor Veteran's Day. On these days, the entire school will be released at 12:30 (just like on Thursdays). This means we will also pick up at the classroom each of these days. Please make sure you are on time to pick as we have conferences scheduled right after school as well.
I will send an email to both parents (through Sign Up Genius), but please sign up for one 30-minute slot per student. During our meeting we will go over your child's report card and progress in academic and social areas. We will also discuss next steps in your child's learning.
Our next Parent Conference week is in March and is only 3 days long, as teachers only conference with any families in which there may still be a concern, therefor we will not meet with all families again in the spring. Your child's report card will still be sent home for you to review. In June, for our third reporting period, we send home your child's final report card for the year, but there are no scheduled conferences.
Chess Club
This past Friday, we had the Chess director/teacher come to our class to do a presentation. The students were all highly engaged and interested. You also received a flier in your child's folder that they may have told you about. Take a look to see if you are interested as all new enrichment classes are starting next week.
Great Shake Out
Thursday morning we participated in the California Great Shake Out. At 10:18 am on 10/18/18 we practiced as a school what we would do in the event of an earthquake. We discussed this as a class and shared how it would be important to get under the desks for the shaking and to cover our head and eyes with one arm while the other arm held on to the leg of the table. After 2 minutes of no aftershocks we would exit the building quickly and get to our safe meeting place. Our meeting place is the same place we meet in the event of a fire, which is located on the large blacktop in the back, by the basketball courts.
The students did great and were very brave! Have a conversation with your child about the drill and how we use drills to practice what to do in unexpected emergencies.
Fine Artists
This week we had our first Fine Artist lesson taught by Dani Powell. (THANK YOU!) She read them 2 books to help explain and set the scene for the art they were about to try. In our Fine Artists program, students will learn about 6 different artists each year and try on a piece of art that is designed and modeled after their work. Though I forgot to capture a picture of the student art as I was helping students at the tables, I caught a picture at the beginning of the lesson. Dani has a great way with the students and reminds them that art can be whatever you, the artist, decides for it to be. This was a great platform for students to feel safe and enjoy the work of art they made!
In this particular piece of art, students were given a sign that is used for communicating a message (for example it could have been a "Danger, Peligro" sign). Students then chose how they wanted to cut up the sign and rearrange the pieces into their own work of art.
Fall Festival @ EBS
Teacher Playdate – Bid on Playdate with a teacher. These tables are also located in the auditorium. You are able to put a bid down to win a playdate with any teacher of your choice. The kids love this and all proceeds go back to our AFP.
Silent Auction – fun to bid on some things for you or your family to enjoy.
BINGO – This is going on for a portion of the night.
Bake Sale – Buy some treats and give back to EBS.
Cake Walk, other activities – on Kinder playground
Pumpkin Carving Contest – Enter your pumpkin in a grade level contest and see if you win!!
Come dressed in your costume!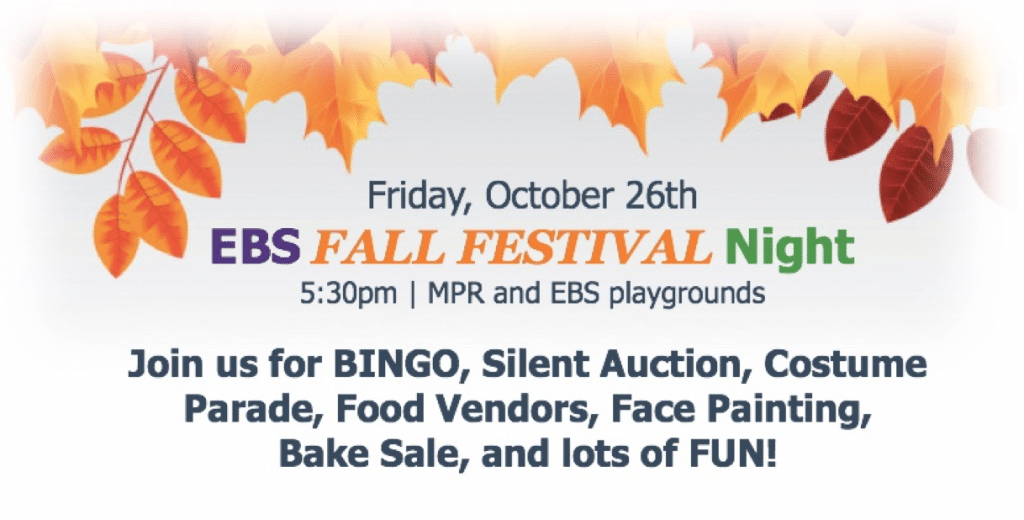 The Color of Next Week: BLACK
The Letter of Next Week: Ll
Upcoming Events
October 26th – Fall Festival Night @5:30 pm
October 25th – October 29th – Mrs. Miller @ Marine Corps Marathon (Mrs. Taber here)
October 31st – TK Classroom Party (no costumes at school)
November 6th – Monthly AFP Meeting @ 5:30 pm, MPR
November 7th – Make Up Picture Day, Volunteer Picture Day
November 7th – 16th – Book Fair
November 8 – 16: Parent Teacher Conferences
November 12 – NO SCHOOL/ Veteran's Day Observed
The Week Ahead…
Monday – 10/22/18
Before School Run Club
Computer Lab @ 10:15am
Music at 9:00 am
Tuesday – 10/23/18
Computer Lab @ 10:15 am
Before School Run Club
Wednesday – 10/24/18
Before School Run Club
Library Visit
Thursday – 10/25/18
Before School Run Club

Whole School Dismisses at 12:30

Mission Federal
Mrs. Taber teaches this day! – Mrs. Miller goes to DC
Friday – 10/26/18
Before School Run Club

EBS Spirit Days: Wear Red & Black or any EBS shirt!

Mrs. Taber teaches this day! -Mrs. Miller goes to DC