IN THIS POST: Scholastic Book Order, Super Pledge Update, STEAM Training, New Student, Outdoor Art, Read to Self, Sight Words, Reading Logs, This Week's Color, Upcoming Events, The Week Ahead
Scholastic Book Order
Apologies for having an incorrect date on the book order. Book orders went home last Monday. If you would like to order books for October please have them in by this THURSDAY, October 11th and I will submit the order that day. In case you forgot our class code is G6LT6 in case you need it for ordering from the website (click on web address below). You can order from any grade/age from the website. There are also $1 books each month I like to purchase and save as gifts!
https://clubs.scholastic.com/home
When books arrive, we put them in your child's backpack that day to go home (with instructions not to take them out until they get home).
Super Pledge Update
We have had many envelopes come in! Thank you for returning them so quickly! Remember that regardless if you or how much you donate your child will get their EBS shoelaces when they return their envelope! If our entire class returns their envelopes, we will get a popsicle party!!
All of these donations go to fund the many extra curricular activities that make our school so awesome and unique! Thank you for being such an amazing AFP that helps our school and each student!
STEAM Training
As you read in my email this past week I will be at STEAM Training  Monday and Tuesday. Mrs. Taber will be our wonderful substitute! I'm excited for you all to meet her! She volunteered to spend the day with our kids a week ago on her free time to get to know them and get familiar with our class routines and the schedule.
New Student
Monday we have a student who  will be returning to EBS. He was in Mrs. Offord's class before his trip, so this will be his first visit to Room 206. Please give him a warm welcome to our class as you meet him!
Volunteers
WELCOME and THANK YOU! We have had our first week of volunteers. We are so grateful! Just a few reminders about volunteering. Please feel free to come in the classroom before school to go over the directions and see what needs to get done that day. I typically have directions written out for the day. There is also a small daily items list that you can check on each time you come. Please make yourself at home and feel free to ask any questions.
Outdoor Art
Dani Powell came in this past week and read Big Pumpkin to the kids (an October favorite) and  prepared stain-glassed pumpkin art for the kids to do. It was a hit with the kids and the pumpkins came out adorable!!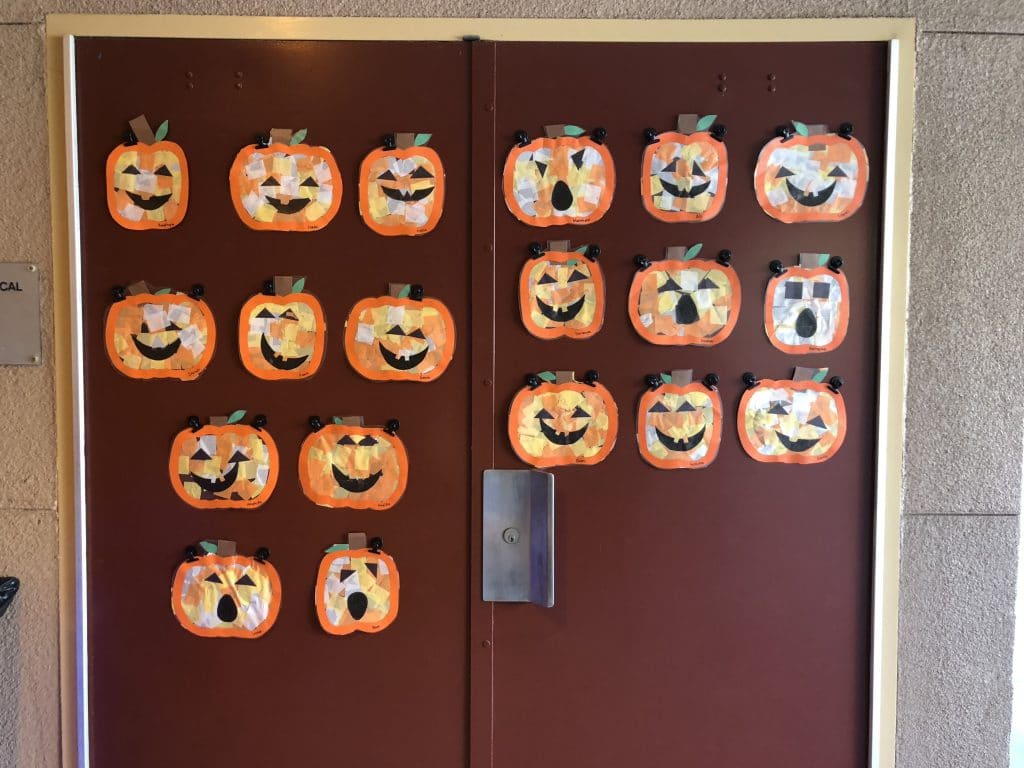 Read to Self
This is a time of our day when the kids read independently. We have been learning to get better at this since the first week of school. We have reminders we go over each time to help us remember how to get better at Read to Self. At the end of our time we use our "thumb meter" to check how it went for us. Our stamina is up to 4:00 minutes of straight independent reading.
We also have a special point to help us bounce from word to word as we read (1:1 correspondence).
Sight Words
Have you all been enjoying your color sight words? We read over these each morning and notice them in our reading. Please continue reviewing these at home and playing, the "My Pile, Your Pile," game when you get home.
Reading Logs
Thank you for returning regular reading logs to keep up consistent reading for your child. Its super important and motivating for your child. Every 10 books fills a log and moves your child over on the reading rainbow. If you somehow are missing a new log or need an extra copy, please download the copy on our resources page.
https://www.linneamiller.com/resources/
This Week's Color:
GREEN
Upcoming Events
October 15th – TK Fine Artist Lesson #1
October 16th – TK/K PLC Day
October 17th – All School Assembly (Miss Ellen's Birthday)
October 18th – Costume Boutique
October 26th – Fall Festival Night @5:30 pm
October 31st – TK Classroom Party
The Week Ahead…
Monday – 10/8/18
STEAM Training – Mrs. Taber will be here to teach
Before School Run Club
10:15 Computer Lab
Tuesday – 10/9/18
STEAM Training – Mrs. Taber will be here to teach
Before School Run Club
10:15 Computer Lab
Wednesday – 10/10/18
Before School Run Club
Library Visit @ 11:45 am
Thursday – 10/11/18
Before School Run Club

Whole School Dismisses at 12:30

Music @ 11:05 am

Mission Federal Bank – Deposit table before school
Color Day – Wear GREEN
Friday – 10/12/18
Before School Run Club

EBS Spirit Days: Wear Red & Black or any EBS shirt!