IN THIS POST: STEAM Training Monday, Log In, Picture Day, Super Pledge, Mrs. Miller's 3-Day Walk, RAZkids Online Reading Subscription, FaceBook, Library Visit Postponed, Upcoming Events, The Week Ahead…
STEAM Training on Monday/Tuesday
I have been given a rare opportunity to attend a Kindergarten/TK STEAM (Science, Technology, Engineering, Art, Mathematics) Training. The training provides some free materials to your class and curriculum. I am hoping it will give me some ideas and understanding of how to work in the new Maker Lab at EBS. A sub will be there each day and I have detailed plans on our day so it will be familiar for them. The dates are 10/1, 10/2 and 10/8. I also told the students on Friday so they would be prepared for my absence. Thank you in advance for your flexibility and excitement for the learning this will bring!!
Log In
Thank you to everyone who helped their child log in. I know it is challenging at first, but it is worth the teaching as it helped tremendously in the lab. The students who have practiced a handful of times are able to get logged much easier. Please continue to practice more at home until they are able to do it by themselves. Speed is not an issue, just independence (and don't forget to give lots of praise for any effort and mistakes they make!…We LOVE mistakes) Some kids struggle to put the number in one box and then to switch boxes to put in the password. The logistics can be tricky. We are able to go back twice this week for some additional practice. Thank you again for your help.
Picture Day
This Monday is our school picture day! We are scheduled to take pictures first (just after the school day starts). If you would like to help we'd love to have you. You must be CLEARED (check the most current list in the office) to stay with us. We will need help with prepping students for their picture and mostly to help after they take their picture as they have to wait for their other classmates to take their picture. That can be challenging for some. The ordering form below went home last week. Please return it before or by Monday, October 1st, 2018. Practice those smiles at home!
SUPERPLEDGE
Our SuperPledge has begun! We are so excited to begin! You heard a little bit about SuperPledge at the Back To School Meetings. The SuperPledge helps to fund our entire year. This is also what covers all the classrooms so that we did not ask for any supplies as school started and get covered with all of our classroom materials! Our computer lab and teacher, and many other extras are covered by this drive. Please see the attached paper to see all the ways that SuperPledge 100% goes to students and makes EBS the kind of school that it is!
The information went home earlier this week! An envelope was attached though you may donate on line. PLEASE return the envelope regardless if you donate or not. There is also a way that many businesses will match your donation (please see the form). The students each get a set of EBS Shoelaces for returning. A pair worn (on shoes, as a hairbow, a belt…etc, but must be both laces) will earn them some privileges with lining up first when going to the playground with other classes.
Mrs. Miller's 3-Day Walk
Mrs. Miller along with 3 other EBS teachers (Wick, Casey and Burningham) are striving and training to complete the 3-Day Susan G. Komen Breast Cancer Walk. We are raising funds to help the research to support all the women and families that face this awful disease each year. You likely know someone who has been through this and painfully hard on them and everyone who loves them. A pink flyer went home on Friday if you are interested in donating to help raise my funds to walk and support these families. We will also be in front of the school to help raise funds for our whole team if you are interested.
Please know this is all optional.
RAZkids Online Reading Subscription
This past Friday, you received directions and a password icon in order to log on to RAZkids online reading subscription paid for by our AFP (thank you). This another option your child has to independently read. Some children enjoy this more and other students prefer actual paper books. Both are great support, but see if your child draws more to one over the other. If you have any questions, feel free to stop by an ask.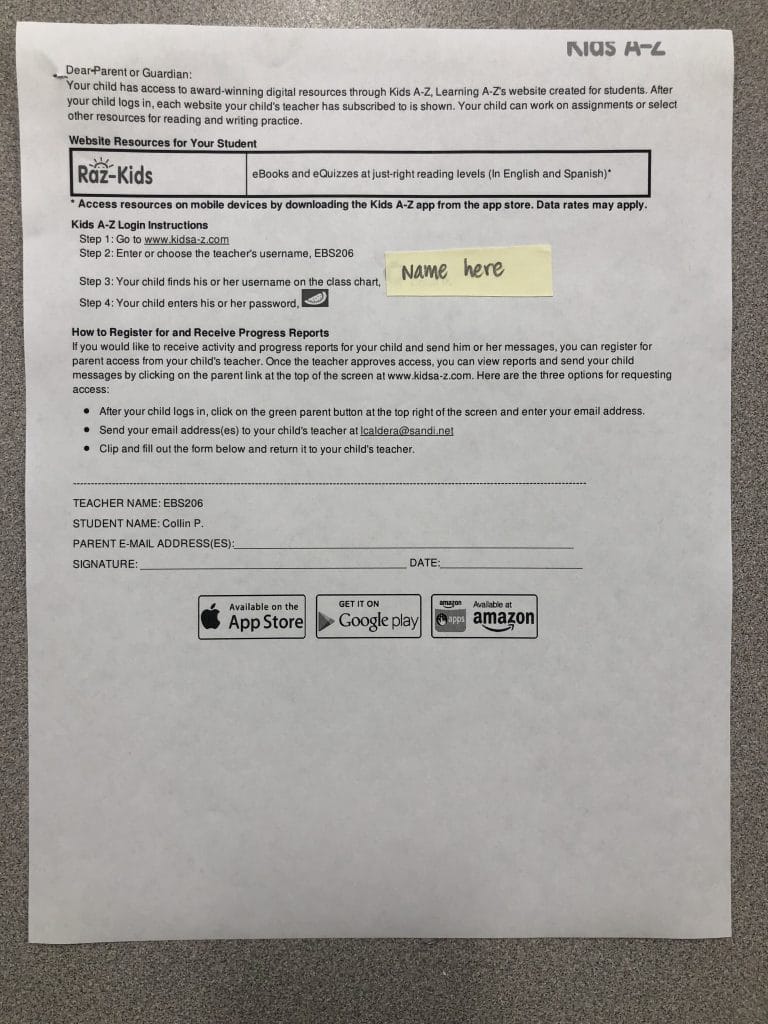 FaceBook
Some families have still reported having trouble getting into Facebook. I resent many reminders. Please make sure it is the email address that is linked to your FaceBook account. Please come and see if you have any additional questions. My IT guy lives with me  😉 so I will ask for help from him as needed!
Library Visit Postponed
This week the EBS Library is closed to all students as they will be updating the software. This will push back our library visit for 1 week. Our next visit will be Wednesday, October 10, 2018.
Upcoming Events
Mrs. Miller STEAM Training 10/1, 10/2, 10/8
October 2nd – Picture Day, Grades 3 – 5
October 2nd – Monthly AFP Meeting @ 5:30 pm, MPR
October 16th – Mrs. Miller at TK/K All-Day Planning
October 18th – All School Assembly (Miss Ellen's Birthday)
October 18th – Costume Boutique
October 26th – Fall Festival Night @5:30 pm
The Week Ahead…
Monday – 10/1/18
Picture Day! (If you are CLEARED, you are welcome to join us!)
Computer Lab 10:15 am.
Before School Run Club
Tuesday – 10/2/18
Wednesday – 10/3/18
Before School Run Club
Mrs. Leatherwood Teaches
Thursday – 10/4/18
Before School Run Club

Whole School Dismisses at 12:30

Music @ 11:05 am

Mission Federal Bank Deposit Table – Before School
Friday – 10/5/18
Before School Run Club

EBS Spirit Days: Wear Red & Black or any EBS shirt!