IN THIS POST: Welcome 3 New Friends, Clever Portal Log In, Run Club, Reading Rainbow, Hats for Adam, Picture Day, Art, This Past Week's Letter, This Past Week's Color, Upcoming Events, The Week Ahead
Welcome 3 New Friends to 206!!
Don't be surprised if you see some new faces in our line on Monday morning! We have 3 new TK friends joining our class starting on Monday. We want to give them a warm welcome! So if you see a new face or friend, say hello, introduce yourself, and welcome them into Room 206! Our TK students practiced welcoming words on Friday as we prepared for our friends to join us!
Clever Portal Log In
You received a small packet in your child's folder regarding Clever Portal Log In. Please try to practice logging a couple times, or at least 1x a day until your child gets independent at this skill. We will be attempting our first log in at the computer lab on Monday! This is a HUGE skill and challenge for our TK's, but I have full faith and confidence they can do it! It takes a lot of hard work and builds a great growth mind-set as we try. It can frustrate some kiddos as they make many attempts. The more you are able to help at home, the faster they gain the skill for class time since there is a smaller adult:child ratio. Thank you for your help, support and patience!
Run Club
Do you love running? Do you want your kiddo to get more exercise or get out their wiggles before school starts? If so, you'd love Run Club. Our school has a great program all run by volunteers! I'm occasionally out there, but my own children are out there almost every day! Its very rewarding and it involves some prizes for their effort! For every 25 laps your child can get a small prize and an accomplishment ribbon or save their reward ticket for a bigger prize. On Wednesdays, the kids run the opposite direction, on Friday they get a small cup of gatorade and they do some other fun ideas to make it more engaging! Come on out at 8:15 (helps for a better parking spot too) to the field above the upper playground and run with EBS. Run club starts at 8:15 and ends at 8:30. Parents must attend with their child and if you plan to run, you will need to sign a waiver with the volunteers. Its a great time!!
Reading Rainbow
Our Reading Rainbow is in FULL EFFECT! We have had about half of our TK students Memorizing, log 10 full books, move on the rainbow! When a student gets to the cloud at the other end of the rainbow they get to take a prize from the prize box. The logs are not due weekly, they get turned in when you log in 10 reads. You can read to your child or your child can read to you. We encourage both!
Reading to your child! – The reading you do with your child is rich in story or information and leads to great discussion and is simply fun!!
Your child reading to you! – The books they read to you bring regular practice and growth to reading!
We hope you are enjoying this! Its been fun to watch the progress just from these first 19 days! This may be my favorite part of teaching TK…you get to witness the birth of a READER!!
A few reminders that are also on the back of every reading log:
If your child is memorizing as they read, don't worry a bit…that is so developmentally typical and builds confidence in them.
Try to have your child read with a pointer or their finger to practice tapping word to word (skipping over spaces). We call this 1:1 matching and it is an important developmental piece. I've already seen some kids pick it up in our first 19 days! So exciting!
Think its too easy….its likely just because they figure the books out quickly and need the rereading even though they have it memorized after the first read. Try to make sure they get to read the books a couple of times! This builds fluency and confidence!
Too hard? – Help them as much as needed on that first read if its too hard or frustrating them. By the second read they will likely be able to read most or all of the book themselves.
Keep practicing those red sight word cards! This is another key component that makes that birth of a reader happen! (orange words are coming soon!)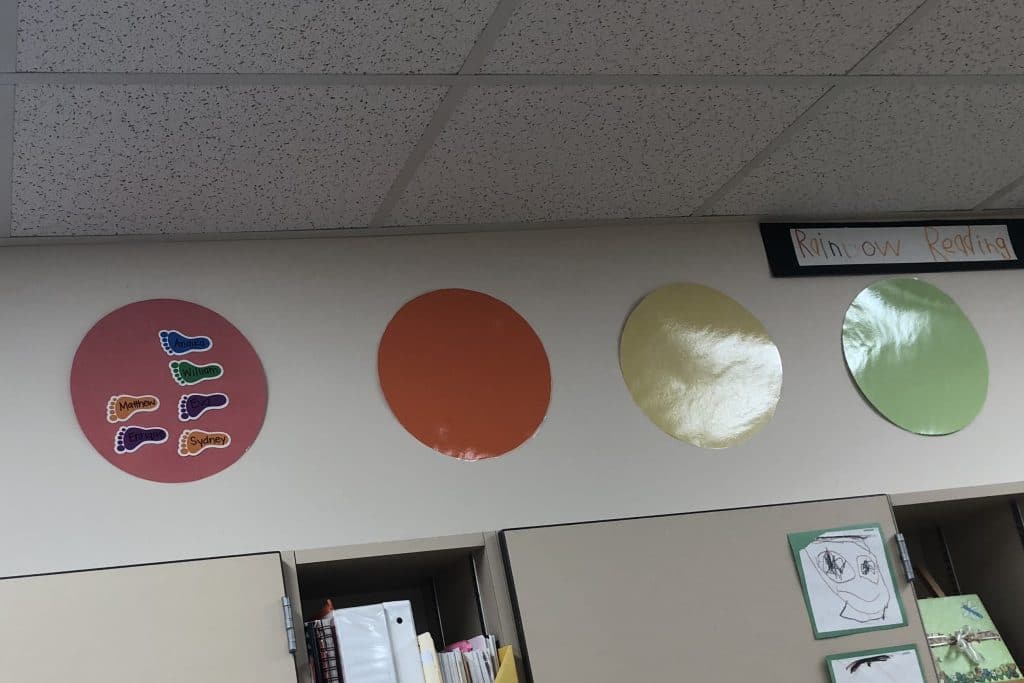 Hats for Adam
If you haven't bought a hat to donate yet, this is the last few days to bring one! I saw Adam on Friday on his way to a doctor appt. and he was in great spirits. His mom told me they are collecting all the way through Wednesday, Sept. 26th. She said there were a lot of babies in the cancer ward and they could use some baby hats! If you are able to order on Amazon or get to the store before Wednesday, consider picking up some baby/toddler hats! Its a small way we can show our support!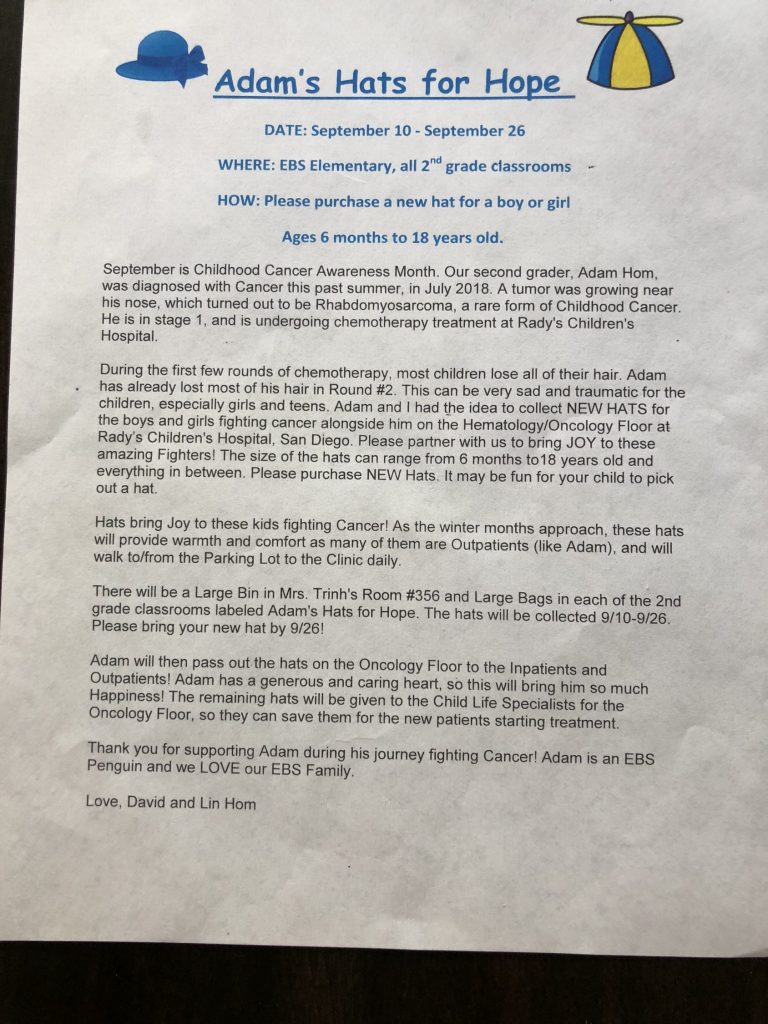 Picture Day
This flyer will be coming home in your child's folder on Monday. Remember our picture day is coming up on Monday, October 1st! Read the directions and choose if you want to purchase and what package or items you'd like to purchase. Whether you purchase or not, your child's picture will make it into the yearbook by taking this picture. In addition, there is a make-up picture day  if necessary in about a month.
Art
Check out the art our class has been doing! You likely saw the art outside of our classroom for fall! Our amazing Room Parent Dani Powell organized that whole project along with a matching story! Thanks Dani (pronounced Donny)!
Mrs. Leatherwood also did some adorable "M" art to match our letter this week. Check out these cute mice!!
This Past Week's Letter
This past week we studied the letter Mm. We practice Mm formation along with finding words that made the /m/ sound. Here's how we form it:
Upper Case (there is one lift of the pencil at the beginning)
Line down and lift
Back to the top
Line diagonally down,
Touch down to the ground
Come back up and back down again
Lower Case (pencil stays down the whole time)
Start in the middle, line down
trace back on top
make a hump
go all the way down to the floor/bottom
trace back up on the line,
make another hump down to the floor.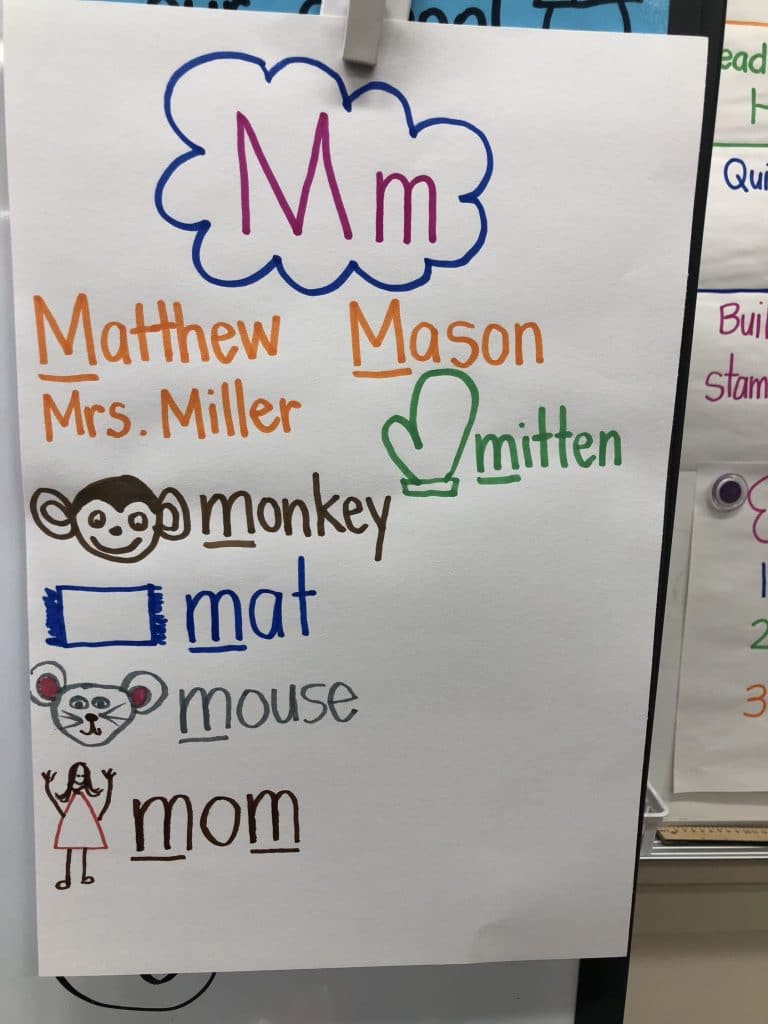 This Past Week's Color
R-E-D spells red! We learned this color this week. We practiced spelling it and read some books that were about red! On Thursday, we all wore RED! So fun!! See pictures on our SECRET Facebook page!
Upcoming Events
September 29th – Family Boomers Day
October 1st – Picture Day TK – 2nd Grade
October 2nd – Picture Day, Grades 3 – 5
October 2nd – Monthly AFP Meeting @ 5:30 pm, MPR
The Week Ahead…
Monday – 9/24/18
Extra Computer Lab to practice Log In @ 10:15 am
Morning Run Club
Tuesday – 9/25/18
Computer Lab @ 10:15 am – We will be practicing our log-in!
Morning Run Club
Wednesday – 9/26/18
Thursday – 9/27/18
Before School Run Club

Whole School Dismisses at 12:30

Music @ 11:05 am

Mission Federal Table before school
Friday – 9/28/18
Before School Run Club

EBS Spirit Days: Wear Red & Black or any EBS shirt!