IN THIS POST: Conference Reminders, Halloween Celebration in 206, Disaster Drill, Clearance Check, Parking Outdoor Wall Art, Scholastic Book Order, Library Book, Return, Book Fair, Upcoming Events, The Week Ahead
Parent Teacher Conferences
(This information is a repeat from last week in case you missed it.)
Parent Teacher Conferences begin this Wednesday! Everyone has signed up and we are ready to go. A couple reminders to make your parent conference go smoothly and give you an idea of what to expect.
Be aware we only have 30 minutes to meet. I will do the best I can to go through all of your child's progress and leave 1-2 minutes for questions. If there is something specific you want to make sure there is time for, please let me know when you first come in so I can plan/adjust accordingly.
When you arrive, PLEASE make sure you come in and let us know you are here. This is very important as we may not realize you are outside and your conference could begin late once we realize you are there.
There is no child-care in class or at school as this is a meeting for Parents and Teachers to discuss progress.
We will go over your child's report card and some of the pieces of work to explain their progress. We will also spend a little time discussing their citizenship behaviors.
If an emergency comes up and you are unable to make it to your conference, please email ASAP and call the office to have them send me a message. Thank you!
Don't worry! Bring a smile! I know some parents can get worried about conferences or feedback. Remember we are at Period 1 for the year. Some students grow faster or slower as they all take off at different rates. Each one of these special kiddos are near and dear to my heart! I LOVE watching them all grow at their own pace and am grateful for the unique personalities they bring to make up this awesome class! Enjoy the time as we discuss these past 2.5  months of the year.
Halloween Celebration in 206
What a fun time we had a in our class on Halloween Wednesday! The kids were so excited and the parents (led by Mrs. Dani Powell) planned a party with a bang! The kids started off by painting some pumpkins with glitter glue and sequins. They moved on to a rotation of three stations and finally had a "Freeze Dance" party with fun-faced balloons at the end! Thank you to all who came out and for fun and energy that each brought to our kids! Photo credits: Kranthi Yarlagadda
Disaster Drill
This past week we had a disaster drill in full form. We practice this type of drill 1-2 times a year. Students get under the desks as Ms. Sloan told us information that we were having a Disaster Drill and to pretend that the room was shaking. After we were informed the room wasn't shaking anymore, we proceeded outside as quickly as possible and lined up in our safety spot up on the large blacktop area. After taking attendance and turning our sheet in, teachers went to safety teams to proceed as if there had been a true disaster. Other teachers watched over classes as students waited on the black top. Classrooms were checked and posts were covered bringing students to the reunification gate for a pretend parent pick-up. All went smoothly and our class did fantastically!
Clearance Check
Each class was sent an email regarding clearance checks. It was noted that many parents came on campus on Halloween to join Halloween parties. We were asked to remind all parents that unfortunately if you are not on the cleared list, you are not able to attend parties or events (with the one exception of Grandparents Day). The office will be checking the clearance list with the next event day to ensure all visitors are cleared. If you haven't been cleared yet….please get your paperwork in so you don't miss any of the fun this year! Our nurse stops processing cleared parents for the school year at the end of March. Thank you!
Parking
We have also been reminded to tell families to please park on the street when coming to the school to pick up or drop off your child. Our lot is reserved for teachers, school staff, support aides, etc. Please make sure you find legal parking on the street and leave the lot spaces for EBS personnel. Thank you so much for your support and understanding.
Outdoor Wall Art
I sadly forgot to take a picture today….but our awesome Room Mom came in this week to read the students the book, Turkey Trouble and have the kids make a turkey craft! Come stop by the backpack hook area to see these silly turkeys! A picture will be posted in Facebook!
Scholastic Book Order
Flyers for November Book Order went out. Consider checking out the $1 -$2 books you can get for Christmas or Hanukkah  gift toppers. You can't beat that price….a book as cheap as a pack of gum! Can you tell I'm a deal buster!? I just can't pass on the $1 books each month as they are too good to pass up!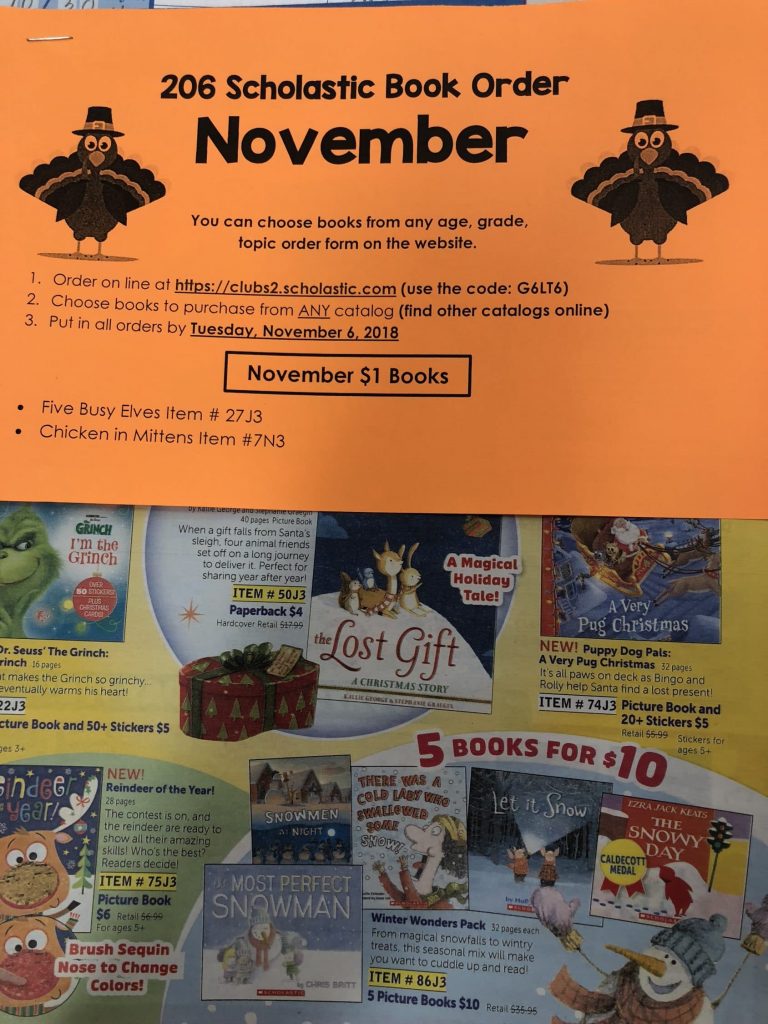 Library Book Return
We have been asked to return all library books on the Tuesday before our visit so that the librarian is able to check the books in first thing in the morning before the classes arrive for the day at the library. Please make sure you return your library book the Tuesday before we visit. I will try to put a reminder on Facebook.
Our next visit is not until Wednesday, November 28th due to the book fair and Thanksgiving break. Please feel free to return your book before then so you don't forget.
Book Fair
Our next visit won't be for a couple weeks as our library is about to be transformed into our annual Book Fair. We will visit the book fair on Thursday, November 8th at 9:00 – 9:30. If you would like to stay and visit with our class, we would more than welcome you if you are cleared. Students are typically able to create a wishlist of books they want to buy and can always use help writing.
You can also send money for your child to purchase a book. Most paper books are $3.99 – $6.99. Hardback books have increased costs. Please note their are lots of erasers, pointers, highlighters and pencils that easily grab the attention of the students. If you choose to send money you may want to pre-visit the book fair before school and choose a book together. Please tell your child and specify what your family choices to purchase will be if this is a concern to you.
Make Up Picture Day
This Wednesday, November 7th is Make Up Picture Day. Please visit the office to inquire information regarding a Make Up Pictures if you wish for your child to retake their picture or take one that they missed.
Next Week's Color: WHITE
Next Week's Letter: Ii
We make this sound by pretending to itch around our neck area and making the short /i/ sound. The long /i/ sound is when the letter says its name.
Upcoming Events
November 6th – Monthly AFP Meeting @ 5:30 pm, MPR
November 7th – Make Up Picture Day, Volunteer Picture Day
November 7th – 16th – Book Fair
November 8th – 206 Visits the EBS Book Fair @ 9:00am in the library
November 12th – Veteran's Day, NO SCHOOL
November 8th – 9th, 13th – 16th – Minimum Days for Parent/Teacher Conferences
November 16th – Grandparents Day @ EBS
November 16th – Mrs. Miller's 3-Day Walk (Susan G. Komen)
November 19th – 23rd – Thanksgiving Break
November 26th – Students return to School
The Week Ahead…
Monday – 11/5/18
Before School Run Club
Computer Lab @ 10:15 am
Tuesday – 11/6/18
Before School Run Club
Computer Lab @ 10:15 am
Mrs. Miller at STEM training  – Mrs. Granucci will be teaching!
Wednesday – 11/7/18
Before School Run Club
No Library due to Book Fair, but please return books regardless.
Make Up Picture Day

Day 1 of 206 Conferences
Thursday – 11/8/18
Before School Run Club

Whole School Dismisses at 12:30

Book Fair Visit 9:00 – 9:30

Music @ 11:05 am

Day 2 of 206 Conferences
Friday – 11/9/18
Before School Run Club

EBS Spirit Days: Wear Red & Black or any EBS shirt!

Day 3 of 206 Conferences